New plugin available in the shop: HideForGuests

Dear readers,
now you can hide links, pictures and media for guests with the new plugin "HideForGuests" which has been released in the shop.
https://shop.destinaja.de/product/88-hideforguests/

The settings for this can be made in the administration.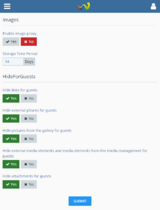 Depending on which options were selected, guests will see a a note that they need to login instead.